But first… what would a RECON Afterthoughts blog be, without a note from the creators.
From the Desk of David and Lisa Spira
(Creators of the Room Escape Convention)
Why we made RECON?
We created RECON because we decided to build the escape gaming convention that we felt the community needed. RECON is a place for people who create games, people who want to make games, and folks who love these games to come together.
How we go about programming RECON?
The escape room world is fragmented by its nature; it's not like video games where everyone can just download a copy of a smash hit and experience it for themselves.
We have been uniquely positioned to identify great speakers from across the escape room world and spotlight the things that they excel at. This is the best way we've found to let people learn from one another.
How we approached RECON Digital?
Doing RECON digitally wasn't the plan, and we hope that the next year will make it safe for physical events again.
When we were forced to switch to digital, we spent a lot of time visiting digital conferences early in the pandemic, and we learned one key lesson: Digital conferences aren't fun.
They feel isolating and disconnected. We sought to create a digital event that felt more like a real-life experience. Our goal was to put attendee experience first, make it feel live and alive. And two years into digital conventions, we're so proud of what the team has created.
People love attending RECON digitally, which blows my mind, because digital cons aren't supposed to be fun.
—-x—- 
"…and then we go up to the roof of the building, and drink beer."
That's what a "conference call" is all about, according to How I Met Your Mother.
Sounds fun, right?
The way conferences should be?
And that's exactly how RECON '21 was!
Spending two whole days as part of an AWESOME virtual community, with loads of fun, endless interactions and collaborations, back-to-back talks, great games…and non-stop networking!
Oh, and there's a reason I started with a reference to HIMYM…keep reading to find out!
Well, let me put it this way.
The Reality Escape CONference – RECON in short – is a conference FOR the escape and immersive game industry…
…BY the escape and immersive game industry.
RECON is the brainchild of The Room Escape Artist…
…possibly the best known chronicler of escape rooms in the world.
For years, they'd been inundated with requests to organize an industry conference.
A conference aimed at growing the industry.
A conference that would include all the stakeholders.
A conference that would shine a light on the industry – its assets, its strengths and its weaknesses..
And that was what inspired the Spiras (David and Lisa Spira, for the uninitiated) to host the very first…
It was supposed to be a physical event in Boston, but then
happened, and they had to take the show online (on Discord).
And it was a spectacular success.
Over nine hundred people from sixty two countries actively took part in the conference, and there were countless others watching as live talks were streamed.
Obviously, hosting RECON '21 Global was a no-brainer…which takes us to Sunday, August 22nd 2021 and Monday, August 23rd, 2021 (which is when RECON '21 was held).
What does RECON aim to do?
 As I've been saying, the vision for RECON is to help the industry grow.
The entire immersive and location-based entertainment industry should find RECON useful in answering some of the most pressing questions like…
Where is the industry headed

Should escape rooms be called escape rooms?

Where does it fit into the larger entertainment industry

How to start designing your own escape room

How to work with automation & tech as a technologically challenged person

The art of game designing and storytelling

How to create a better experience for players

And more…
This it plans to do by inviting all stakeholders for their views.
From enthusiasts to owners, from suppliers and agencies to prospective owners and investors – RECON is open to all.
Turning escape rooms into a timeless medium.
As it says on the website, they see escape rooms as a "new medium for storytelling and play".
Their aim is to turn it into a timeless medium, like film, music, video games and even the written word!
In one word…EVERYONE.
If you're connected with, or interested in, immersive and location-based entertainment, RECON is THE CONFERENCE for you!
For players and enthusiasts, RECON is a chance to meet…
Other players and enthusiasts, and…

The people at the other end of escape rooms – owners, game designers, puzzle makers, and so on
From all over the world!
By signing up for RECON, you can…
Join and make new teams. Learn more about immersive experiences. Get a sneak peek into creators' mindsets.
Whether you're fascinated by the industry and want to learn more about it, or whether you want to make new friends from around the world, RECON is the place to be!
Owners, prospective owners and investors
Those Facebook and Reddit groups you're a part of?
Full of great people no doubt, BUT
There is just no way a group of disparate individuals can hold meaningful conversations on key issues.
At best they become echo chambers of one or two members who post regularly.
Whereas at RECON you get two full days dedicated to non-stop talks, workshops, collaborations, and networking.
You can access discussion tables to initiate conversations with a select group of attendees. You can set up a booth to display your offerings.
From creative aspects to administrative and business insights…everything immersive and escape room is on the table at RECON.
RECON '21 for example, featured Andrew Preble, creator of Escape My Room, as the host of an Ask Me Anything on how escape rooms can deal with government.
From accessing pandemic relief funds to lobbying local governments for fairer regulations, it was all part of the discussion!
Whether you own or plan to own your experience (be it an escape room or something that stems from the thought of an escape room), or you're looking to invest in one, RECON is THE place to get a clear bird's eye view of the entire industry!
How can you create the best narrative and experience possible for players?
Which trends is the medium drifting towards?
What can you do to improve whatever you're working on, right now?
The talks and interactions at RECON aim at answering all of these questions.
Whether you're a writer, puzzle maker, game designer, or you're more on the engineering and tech side of things, RECON is the place to get an experience-centric look at the state of the industry!
Brands and Rights holders
Are you looking to reach out to, and engage with, people in a completely unique way?
Create unique advertising for your product/brand?
Work with escape room and immersive experience companies and make consumers take notice?
Then RECON is definitely something I recommend you be a part of!
Join writers, artists, designers and engineers, and find out how they can work with you to put a creative, experiential spin on your product/brand.
One that will force your consumers to sit up and take notice.
In a nutshell,
It was amazing!
OK, let's break that down.
First, it is multi-dimensional… lemme explain what that means…
From personal experience, having attended other virtual conferences before,…
I've felt that most other conferences veer too much into a single niche, like focusing excessively on scary experiences and haunted house-type attractions.
RECON, on the other hand, saw multiple niches and game types being discussed, which gives it a broad-spectrum appeal. 
Then there's the diversity of people it's aimed at.
Like I said earlier, RECON really made an honest effort at including every stakeholder in the industry.
Whether you're in location-based entertainment, immersive theater and so on…

Whether you're an owner, enthusiast, writer, puzzle creator, experience and game designer, engineer, or even representing an agency,

Whether you're looking to network, learn or just hang out…

Whether you are looking to assemble an all-star team to conquer all the escape rooms in the world…
RECON '21 had something for you!
Third comes infrastructure.
Honest to God *pinky promise* – These guys hit it out of the ballpark with their planning and execution of the event. 
I was awestruck by the proactiveness of the RECON team in being all over the place, making sure everyone was being dealt with and resolving issues within minutes.
This is just an example of the proactive response that you would expect at RECON for even the smallest problems.
From having a clear gameplan of what they wanted to achieve – what kind of interactions they wanted attendees to have,
To maintaining live support, and contingency planning…they were on the mark on every count.
They had planned the event to ensure people could be as much (or as little) involved as they wanted:
If you just wanted to listen to workshops and presentations, you could do that.
If you wanted to check out individual escape rooms and/or agencies, you could do that (via dedicated 'stalls').
The various other facilities, like conference rooms, discussion boards, the pub, the lounge, the escape game jam…they all worked to create an intense, collaborative experience.
I think I've become a fanboy and I've managed to keep you glued so far, which speaks a lot about you…
You seem to connect with this movement like I do… and that only means that we should meet in person next year at the RECON '22 Conference in Boston (August 21st and 22nd).
Follow their website for more information and updates.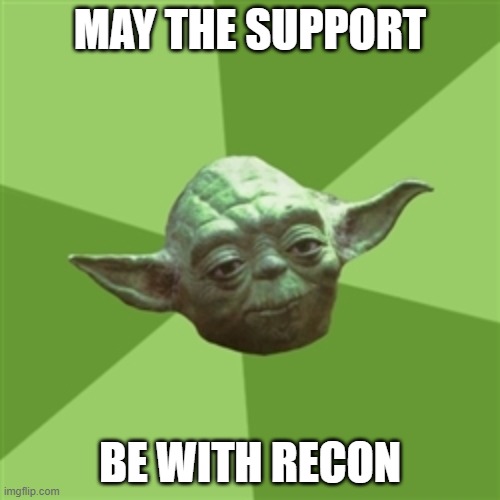 I'll start off with a brief answer to the question "Why you should support RECON", but if you're already sold on supporting them, scroll ahead to the section on "How you can support RECON".
Why you should support RECON
Fair question.
Why should you support something which has free access (it's true; basic RECON tickets were priced at $0 this year)?
Here are three crucial reasons why:
It provides you with a helluva lot of value.
As we'll see in a while, RECON '21 had a lineup of featured talks and workshops that were informative.
RECON '21 gave us all an opportunity to collaborate and network with fellow enthusiasts from all over the world.
The massive effort made by the RECON team and volunteers to make it a blast!
As you read on, you'll discover that Team RECON revamped the entire tech infrastructure from last year to scale up the event better.
RECON's army of volunteers were on their toes throughout the event, welcoming attendees, helping them sign in, and attending to ad-hoc issues as they popped up.
RECON is more than just another escape room or immersive entertainment industry conference.
It's grown into a movement, actively trying to give our industry a face and voice.  
The escape room industry, despite its growth, is still in the rural backwaters as far as formal recognition is concerned.
An "attractions industry" association like the IAAPA doesn't consider escape rooms to be an industry worth talking to or taking onboard.
Even though they're a unique kind of indoors attraction, escape rooms still don't have a separate code of building regulations.
Accessing financing is another problem, as banks and other institutions don't understand the industry profile, risks and requirements of an escape room.
An investment in RECON is an investment in the industry we all love and have a stake in, and also something that can add an entirely new dimension to the entertainment space.
How you can support RECON
Here are five ways you can do it:
Support Room Escape Artist (the creator of RECON) on Patreon
For as little as $2 a month, you can help them research and create quality content on the industry.
If you want to get the inside scoop on industry events BEFORE the news even hits the market, become a REA member!
Become a sponsor/exhibitor/vendor in RECON
If you have a product or if you offer a service in the escape room/immersive entertainment/location-based entertainment industry,
What better place to get eyeballs on your product/service than arguably the most active and inclusive conference in the industry?
Access hot topic talks by thought leaders.

Get feedback from owners, enthusiasts and experts about industry trends and best practices.

Strike up relationships.

You can even run demos of your product/service in your booth.
Becoming a sponsor/exhibitor/vendor is a GREAT way to support RECON while building strong industry relationships that will continue to help you in your journey as a brand. 
Sponsor REPOD (the Reality Escape POD)
Hosted by David Spira and Peih-Gee Law, the REPOD podcast hosts thought leaders and experts to explore the various genres of immersive gaming – Alternate Reality Games (ARG), tabletop games, puzzle hunts, escape rooms and so on.
They're currently in their second season.
Season one featured guests like Survivor Challenge Consultant Myles Nye, ARG designer Elan Lee, Anthony Robinson and Chris Lattner.
Season two (so far) has featured Neil Patrick Haris (yes, THE NPH), former creative director for Time Run Nick Moran, Sarah Zhang from Pursuit of the Assassin Artist, and the world champion of Super Smash Bros. Melee Ken Hoang.
You can support future seasons here.
Here's one more name to add to the list of branded merch that you fancy – RECON merch.
From T-shirts to hoodies, from mugs to water bottles, from notebooks to stickers…they're all available, ready for the taking!
Spread the word about escape rooms!
One final way you can support RECON, and the entire escape room industry.
It won't cost you a penny.
Just spread the word about escape rooms!
I said earlier how escape rooms are largely unseen and unrecognized by entertainment industry associations, banks and so on.
This may surprise you, but…
Escape rooms are also largely unseen and unrecognized by a large number of the general public as well. 
Ask around – amongst your family, your friends and your work colleagues – and you'll be amazed at how many of them just haven't heard about escape rooms.
And how many of them will remain fixated on the question – "Why pay someone to lock me inside a room?".
So, go out there, and talk to people.
Give them a peek inside the magical world of escape rooms.
Eliminate misconceptions about escape rooms.
Join the movement to make the escape room a mainstream entertainment venue, like a theatre, an arcade, or even a pub! Cheers!